MUSEUM & RESEARCH CENTER HOURS
To better accommodate visitors, we have modified and expanded our open hours for the Carpenter Museum and our new Research Center. The Research Center includes materials from the Robert S. Trim Collection, formerly housed in the Blanding Public Library, as well as other historical and genealogical materials.
TUESDAY, 1PM – 4PM
THURSDAY, 1PM – 4PM
1st Saturday of the month, 1PM-4PM
Visitors may also request an appointment to view special collections not currently on display in the Museum. For more information and to request an appointment, please contact director@RehobothAntiquarian.org 
With notice, we may be able to accommodate visitors at other days and times for special tours. Please contact director@RehobothAntiquarian.org for more information and pricing.
---
 ADMISSION (includes Museum and Research Center):
Adults – $5 (suggested donation)
FREE for visitors under 18, RAS members, and Rehoboth residents
---
RESEARCH INQUIRIES
Museum staff are available to answer questions regarding the Museum's collections, which include genealogical resources, archival materials, and museum objects. We are happy to assist researchers both on-site and off-site.
Museum staff are happy to answer specific questions about the history of Rehoboth and resources in our collections that can be addressed in no more than 30 minutes of staff research.
Due to the volume of queries we receive, it can take up to two weeks to receive a response from staff.
To submit an inquiry, please email our Research Manager here: genealogy@rehobothantiquarian.org 
---
PARKING
The Museum is located at 4 Locust Ave., Rehoboth, MA. (GPS will take you to the front of the Museum, but the parking lot is located off of Bay St. Rd, behind the Rehoboth Congregational Church.)
The Museum tour begins at the front door of the farmhouse. Please park in the lot and follow the path up the hill to the front door.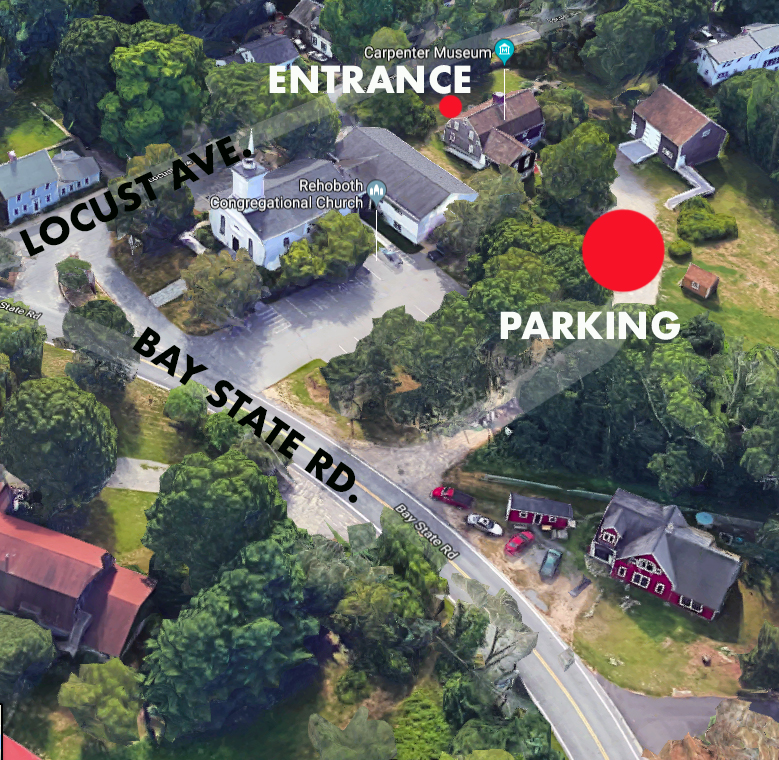 ---
ACCESSIBILITY
The first floor of the Museum's farmhouse is accessible via ramp on the northern side of the building. For visitors wishing to use the ramp, please park in the lot and ring the doorbell at the basement door for assistance (alternatively, please call (5o8) 252-3031.) We will be happy to direct you to a parking spot that provides better access to the entrance ramp. Please note that restrooms are located on the ground-floor of the farmhouse, so visitors requiring the use of the ramp would need to exit the museum via the ramp, drive around the corner to the parking lot, and enter the Museum via the basement entrance where the restrooms are located.
The Museum's barn is accessible via a ramp, and there is an elevator that connects the first and second floors of the barn. There are no restrooms located in the barn.