Arts in the Village is excited to announce the resumption of its Chamber Music Series in Rehoboth. In the fall of 2022, AIV's 20th season featured two concerts: pianist Frederick Moyer on October 1 and the cello-piano Ekstasis Duo on November 12.
Three more concerts are scheduled in the winter-spring of 2023. On February 18, the violin-piano duo Emil Altschuler and Mana Tokuno will perform. On March 18, the Haven String Quartet returns. And on April 29, the clarinet-piano duo Jonathan Cohler and Rasa Vitkauskaite will appear. More details about the performers and their programs will soon be available .
Inaugurated in 2001, Arts in the Village is a concert series whose purpose is to enrich the community by presenting cultural events that enlighten and inspire. All performances feature world-class talents and take place in historic Goff Memorial Hall, a wonderful venue with outstanding acoustics. For information, call 508-431-6879, or email aiv@rehobothantiquarian.org.
Check out a review of Arts in the Village from South Coast Today.
---
Arts in the Village 2022/2023 Season
Arts in the Village is pleased to announce its 2022 fall season. The talents of this sea­son's exceptional musicians will be showcased in two exciting concerts. Both performances will take place on Saturday evenings at 7:30 pm, at Goff Memorial Hall, 124 Bay State Road, in Rehoboth, MA 02769. The doors open at 7:00 pm for early seating, which is non-reserved. Payment may be made by cash, credit card or by checks made out to the Rehoboth Antiquarian Society. We look forward to seeing you soon!
Admission prices:
$22 for general
$20 for seniors
$8 for children & students
---
Donations:
To donate to Arts in the Village, please make your check payable to the Rehoboth Antiquarian Society, noting that it is for Arts in the Village, and mail it to the address below. The Rehoboth Antiquarian Society is a 501(c)(3) nonprofit organization, and all donations are tax deductible.
Arts in the Village

Rehoboth Antiquarian Society

PO Box 2

Rehoboth, MA 02769
The donor categories are:
Benefactor: $400+
Sponsor: $100-$399
Patron: $50-$99
Friend: $25-$49
Frederick Moyer October 1, 2022
Frederick Moyer is one of the most exciting pianists before the public today.  Equally at home with Bach, Beethoven and Rachmaninoff, as well as Ellington and Gershwin, his recitals are creative, engaging and entertaining and generally include time honored favorites as well as pieces that audiences may be hearing for the first time. Also featured is his MoyerCam, a projection system that allows the audience to see his hands as he plays.
Frederick Moyer has established a vital musical career that has taken him to forty-four countries and to such distant venues as Suntory Hall in Tokyo, Sydney Opera House, Windsor Castle, Carnegie Recital Hall, Tanglewood, and the Kennedy Center. He has appeared as piano soloist with world renowned orchestras including the Cleveland, Philadelphia and Minnesota Orchestras, the St. Louis, Dallas, Indianapolis, Milwaukee, Baltimore, Pittsburgh, Houston, Boston, Singapore, Netherlands Radio, Latvian, Iceland and London Symphony Orchestras, the Buffalo, Hong Kong and Japan Philharmonic Symphony Orchestras, the National Symphony Orchestra of Brazil, and the major orchestras of Australia. His many recordings on the Biddulph, GM and JRI labels reflect an affinity for a wide variety of styles. In recital, his delightful commentary from the stage brings the audience into the heart of the musical experience. Moyer's wide-ranging interests have led him to undertake many unique and ground-breaking projects, often involving software that he writes himself.
Critical praise for Frederick Moyer, Pianist: 
– "First-class … His playing is clean, unmannered and full of ideas and intelligence." The New York Times
– "Moyer breezed through this splendidly varied and arduously demanding recital with technical and stylistic colors flying." Los Angeles Times
– "His interpretations were as instinctively true as they were intelligent, and his technique was capable of all demands placed on it." Washington Post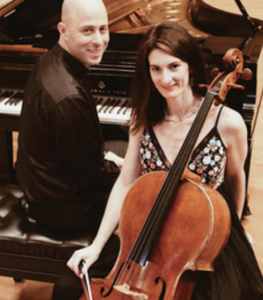 Ekstasis Duo – NOV. 12, 2022

Natasha and Eliran met as students years ago at Juilliard. After some exciting performances in New York City and upstate NY, the two decided to embark on a new mission: to create compelling programming celebrating masterpieces alongside the secret jewels of lesser-known works.
With a focus on storytelling that pinpoints an aspect of the human condition or creates an atmosphere through sound, their concerts offer solo and chamber music works, and occasionally incorporate multimedia, readings, video, and visual art. In recent seasons, the duo promoted the music of minority composers with two programs called "Women's Voices" and "…From the Shadows." These initiatives also included lectures, audio and video recordings. 
​Since their debut in 2018, The Ekstasis Duo has appeared on distinguished series such as New York City's Merkin Hall, Eastman's Morning Chamber Music Series, and Rochester's "Live from Hochstein." During the summer of 2020, the duo recorded music for their upcoming debut CD, "Women's Voices," projected for release in 2023. This program inspired Ekstasis to give lectures online and in person both nationally and at an international conference in Lucca, Italy. A multimedia project involving live music and video occurred in 2021 as a result of winning Fredonia's Kasling Award and a paper on women's compositions for cello and piano was published in 2021 in the College Music Society Symposium. Postponed engagements due to COVID-19 include California's L'Ermitage Foundation in Los Angeles and Tateuchi Hall at the Finn Center at Mountainview, New York's Community School of Music and Arts, Bard College, The Eastman School of Music, and GetClassical Revelation Gallery. 
We welcome your feedback on the Arts in the Village Facebook page.
Musicians who are interested in performing in the Arts in the Village series should contact Carolyn Panofsky at aiv.rehoboth.ma@gmail.com.
The Arts in the Village concert series is sponsored by the Rehoboth Antiquarian Society, local businesses, and individuals.

More Cultural Happenings in the Village: