Arts in the Village is excited to announce the resumption of its Chamber Music Series in Rehoboth with a concert on October 1, 2022. For AIV's "reopening" we are pleased to present pianist Frederick Moyer, one of our favorite performers. His program will include both classical music and jazz. What could be more enjoyable, after this difficult time, than an evening of lovely music shared with friends and neighbors, right here in our own community. We look forward to welcoming back concert-goers and introducing new music lovers to our great venue in Goff Hall. But, we need help.
Join the Committee
We are looking for volunteers to serve on the Arts in the Village Committee. This entails attendance at four to five meetings per year to plan the concerts, promote attendance, and execute concert preparation. The only qualifications needed are a love of music and a willingness to work with others to deliver great concerts for Rehoboth and the surrounding communities.
Help prepare for concerts
Maybe, you don't like meetings, but you want to help. Do you have a few hours to assist with mailings, help with setting up the hall on concert days, help at the box office on concert nights? We can put you to work.
Be our part-time coordinator
Finally, would you be interested in working for a modest stipend as the part-time coordinator of the concert series? To do this, you will need good "people" skills and administrative and computer capability. You would work from home under the supervision of the Arts in the Village Committee, and would also have to be present at the concerts. To express interest or learn more about any of these roles, please contact Arts in the Village by emailing shawnkendrick@comcast.net.
Inaugurated in 2001, Arts in the Village is a classical concert series whose purpose is to enrich the community by presenting cultural events that enlighten and inspire. All performances feature world-class talents and take place in historic Goff Memorial Hall, a wonderful venue with outstanding acoustics. For more information, call 508-463-5384.
Check out a review of Arts in the Village from South Coast Today.
---
If you are new to Arts in the Village and would like to find out more, please see the information below about the 2019-2020 season.

2019-2020 Arts in the Village Season
Arts in the Village is pleased to announce its 2019–2020 concert series. The talents of this sea­son's exceptional musicians will be showcased in five exciting concerts. All performances will take place on Saturday evenings at 7:30 pm, at Goff Memorial Hall, 124 Bay State Road, in Rehoboth, MA 02769. The doors open at 7:00 pm for early seating, which is non-reserved. Payment may be made by cash or by checks made out to the Rehoboth Antiquarian Society. Please note that sub­scriptions offer a substantial savings. For information, call 508-463-5384. We look forward to seeing you soon!
Admission prices:
$18 for general
$16 for seniors
$8 for children & students
---
Subscription rates (all 5 concerts):
$80 for general
$60 for seniors
$35 for children & students
$160 for families
---
Donations:
To donate to Arts in the Village, please make your check payable to the Rehoboth Antiquarian Society, noting that it is for Arts in the Village, and mail it to the address below. The Rehoboth Antiquarian Society is a 501(c)(3) nonprofit organization, and all donations are tax deductible.
Arts in the Village

Rehoboth Antiquarian Society

PO Box 2

Rehoboth, MA 02769
The donor categories are:
Benefactor: $400+
Sponsor: $100-$399
Patron: $50-$99
Friend: $25-$49
Bahmann & Cienniwa– October 5, 2019
Michael Bahmann and Paul Cienniwa, Harpsichords
Michael Bahmann and Paul Cienniwa join forces for a two-harpsichord recital featuring J.S. Bach's Art of Fugue. Considered the greatest achievement of his extensive catalogue, the masterpiece is Bach's final testament to the art of writing in multiple voices. Also on the program are Bach's Concerto for Two Harpsichords in C Major and his son Wilhelm Friedemann's Duet in F Major. At home on both harpsichord and fortepiano, Bahmann performs with Musicians of the Old Post Road, among other area groups. Previously Music Director at First Church in Boston, Cienniwa is Director of Music Ministries at St. Paul's Episcopal Church in Delray Beach, Florida.
Matthew Graybil – NOV. 9, 2019

Solo piano
Described as an "exceptional young artist" by The New Yorker, American pianist Matthew Graybil has performed throughout the United States, Canada, Mexico, and Europe. He will present his eclectic program enti-
tled "Debussy: His Friends and His Enemies." Claude Debussy was known for his sharp-tongued wit and an often amusing attitude toward his idols, contemporaries, and adversaries. Musical and verbal homages and insults
abound in this program. Quotes from Debussy's letters and musical criticisms will enliven the music and allow the audience to engage with his distinctive character.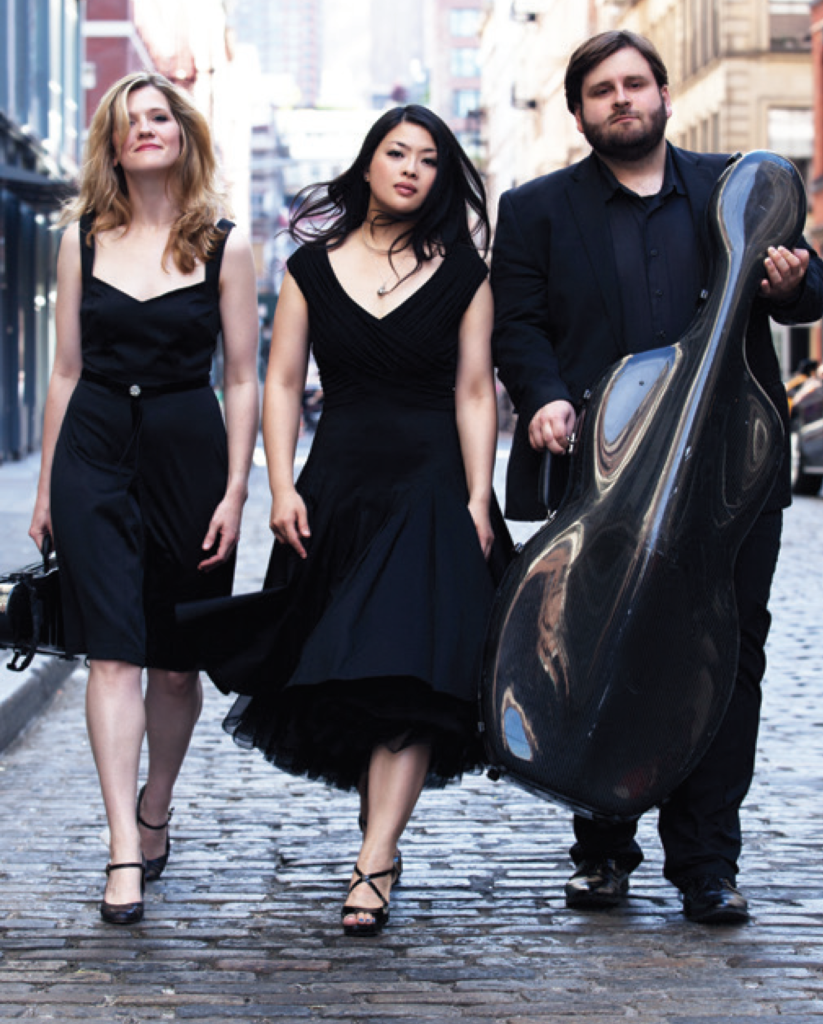 Neave Trio – FEB. 29, 2020
Violin, cello, piano
Since forming in 2010, the Neave Trio, with violinist Anna Williams, cellist Mikhail Veselov, and pianist Eri Nakamura, has earned enormous praise for its engaging, cutting-edge performances. The Trio, which has performed at many esteemed concert series and at festivals worldwide, recently joined the faculty of Longy School of Music in Cambridge. Neave Trio strives to champion new works and reach wider audiences through innovative presentations. For this concert, the Trio performs works by four distinguished women composers: Rebecca Clarke, Amy Beach, Cécile Chaminade, and Jennifer Higdon.
CANCELLED – TO BE RESCHEDULED
Bay Winds Sextet – MAR. 28, 2020
Winds and piano
In 2013, six professional musicians came together to form both a woodwind quintet and a piano sextet with the desire to learn and to perform the great chamber music repertoire specifically written for these two combinations of instruments. The piano sextet is comprised of a woodwind quintet (flute, oboe, clarinet, horn, and bassoon) plus a pianist. The performers, Stephen Toro, Donna O'Brien, Linda Diebold, Jonathan Malone, Jeff Stewart, and Donald Rankin, appear regularly with orchestras and chamber groups throughout New England. The evening's concert will feature works by
Poulenc, Klughardt, Bernstein, and Blumer.
CANCELLED – TO BE RESCHEDULED
Schwarz & Bournaki – APR. 25, 2020

Cello-piano duo
Julian Schwarz and Marika Bournaki, two internationally renowned virtuosi (who met as teenagers at the Aspen Music Festival), combine and blend their musical styles, personalities, and artistry in a program of beloved and popular masterworks for cello and piano. Scores by Bloch, Brahms, Chopin, and Debussy are filled with soaring melodies, luscious harmonies, and more than a few tests of the performers' techniques and artistic insights, creating a program that will be remembered long after the artists' final bows. Julian and Marika are also each performing a solo work: Cassado's Suite for Solo Cello and Ravel's Sonatine.
---
We welcome your feedback on the Arts in the Village Facebook page.
Musicians who are interested in performing in the Arts in the Village series should contact Carolyn Panofsky at aiv.rehoboth.ma@gmail.com.
The Arts in the Village concert series is sponsored by the Rehoboth Antiquarian Society, local businesses, and individuals.
More Cultural Happenings in the Village:
Rehoboth Contra Dance
Sunday Night Jammers